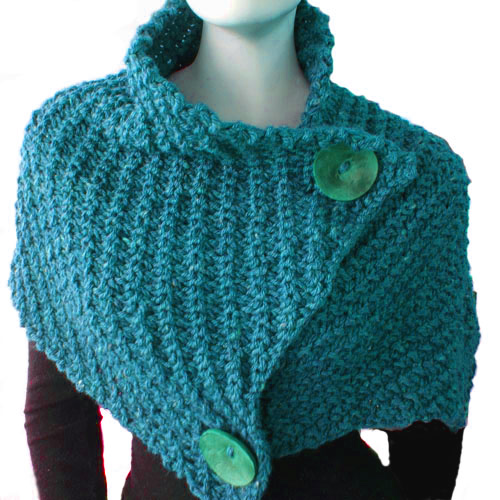 Over the last week I have revisited a number of my previous designs to update the video links in them and to review the instructions. I had some fun rewriting my Giant Retro Cowl pattern – not just to change the color to the one of the colors I do have in stock – but also looking at how the placement of buttons can completely change a simple knitted rectangle.
The idea for the cowl pattern came about whilst considering how to make a bias knitted piece. Bias cut fabrics are always so flattering so I thought that the same theory should apply to a bias-look knitting pattern. I searched through my stitch pattern libraries and finally came across the diagonal rib stitch. Rather than having to increase and decrease, this stitch allows you to knit a diagonal rib along a fixed number of cast on stitches. After a number of swatches in numerous different yarn combinations, the Giant Retro Cowl pattern was born.
It was so popular when we had our store front open in Melbourne that one customer knitted 14 different versions – including a handspun angora version for a Winter bride. It was stunning as was the bride! It remains one of my most popular patterns.
I have just added the new and improved version of this pattern to the website (available for purchase through the Ravelry shopping cart buy now link). I will add some yarn kits in the new Retro colors later this week as well.  Pat x
After a beginner knits their first few scarves their attention will often turn to how to knit different shaped garments. A beanie, vest or even a jumper will all require knowledge of how to make decreases to achieve shaping in a garment.
I have produced two video tutorials showing the most common knitting decrease techniques. The first is the skp or slip one, knit 1, pass slipped stitch over technique for left slanting decreases. The second is the knit two together – k2tog – technique for right slanting decreases.
These two techniques are used in my Tangram Blanket design to shape the two large triangles. Enjoy Pat.