I have been working on this idea for a few months now and had done a few samples in New Zealand. Splitting up a granny square into two triangles is easier than you think.
I am now experimenting with the same technique splitting into into one quarter and also 4 quarters. It is super fun.
Pattern and video launching this week.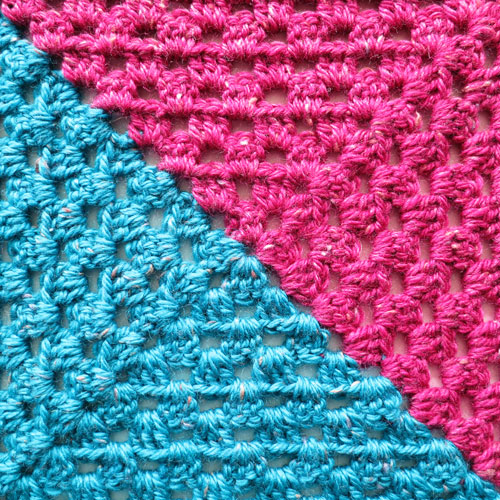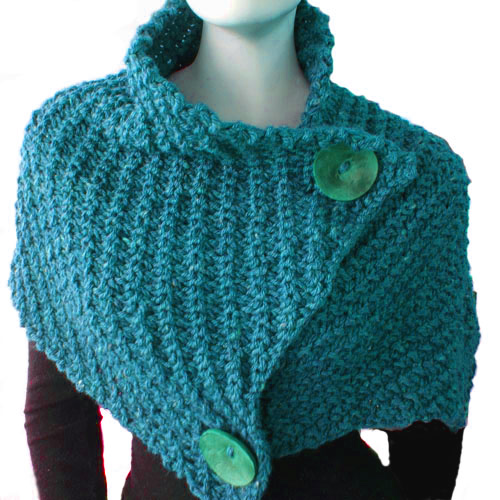 Over the last week I have revisited a number of my previous designs to update the video links in them and to review the instructions. I had some fun rewriting my Giant Retro Cowl pattern – not just to change the color to the one of the colors I do have in stock – but also looking at how the placement of buttons can completely change a simple knitted rectangle.
The idea for the cowl pattern came about whilst considering how to make a bias knitted piece. Bias cut fabrics are always so flattering so I thought that the same theory should apply to a bias-look knitting pattern. I searched through my stitch pattern libraries and finally came across the diagonal rib stitch. Rather than having to increase and decrease, this stitch allows you to knit a diagonal rib along a fixed number of cast on stitches. After a number of swatches in numerous different yarn combinations, the Giant Retro Cowl pattern was born.
It was so popular when we had our store front open in Melbourne that one customer knitted 14 different versions – including a handspun angora version for a Winter bride. It was stunning as was the bride! It remains one of my most popular patterns.
I have just added the new and improved version of this pattern to the website (available for purchase through the Ravelry shopping cart buy now link). I will add some yarn kits in the new Retro colors later this week as well.  Pat x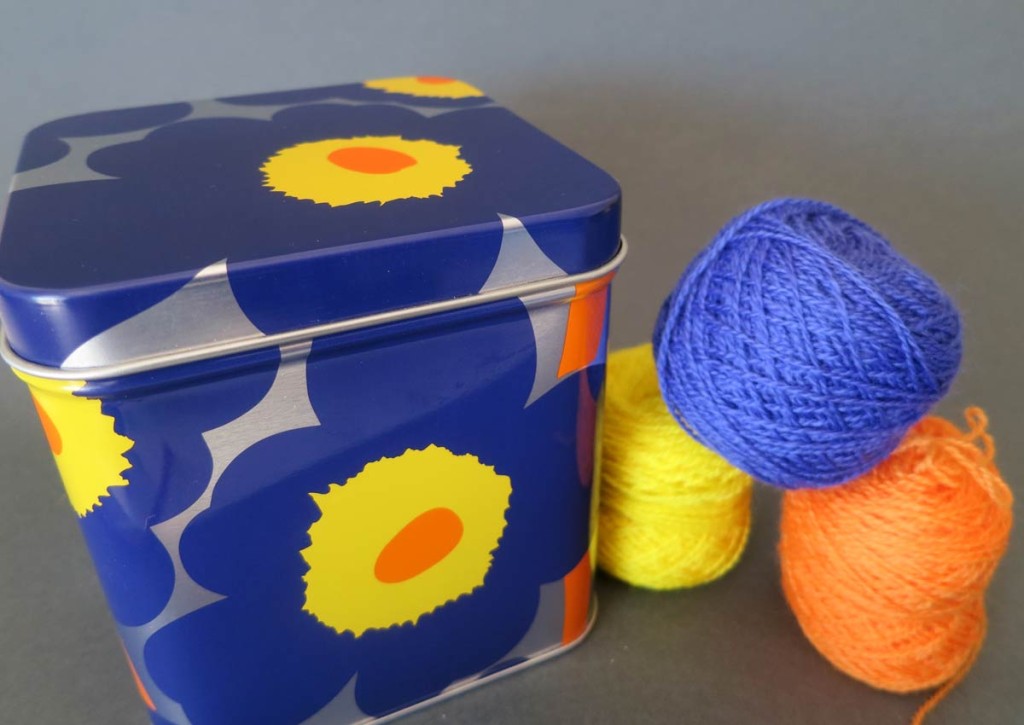 This year Marimekko is celebrating the 50th anniversary of the Unikko floral pattern. In 1964, Marimekko's founder Armi Ratia announced that Marimekko would never print a floral pattern saying that flowers should only bloom in nature. In protest, designer Maija Isola created an entire collection of floral patterns – one of these was Unikko (poppy). The design was bold and resonated with the 60s flower power revolution.
I visited the Marimekko store in Chapel Street Melbourne last week to see the Unikko design first-hand. I came away with this small tin printed with the Unikko design which I am now using to keep teabags. My two-year old son Leo spotted it as soon as he walked into the kitchen. It's striking design and use of color got me thinking about color theory and design.
The colors used for this particular Unikko pattern use the split-complement color theory. This theory calls for the key hue (color) to be combined with the two hues that lie adjacent to its opposite hue. The Unikko design demonstrates this well in it use of blue-violet as the key hue together with yellow and orange – being the colors either side of yellow-orange on the color wheel. I got my color wheel out to check and the result can been seen in the picture below.
Faber Birren's seminal text "Creative Color" explains the theory of the split-complement and makes a few suggestions when using complementary colors that we also see at play in the Unikko design. In particular, he notes that cool hues such as blue and violet make ideal backgrounds. Warm colors, such as red and orange are more advancing and make better feature hues than background hues.
Inspired by this story of courage in design and the beautiful use of color on my much admired tea tin, I have gathered some colors in my collection of 2ply merino yarn and will start a new design this week. I will keep you posted on progress. Time for a tea break…