Another 24 hours has passed and still no progress on cracking this mystery technique. Here are some more of the suggestions that have been submitted – tunisian crochet, dip dyeing a knitted piece, circular knitting and various stranding techniques.
So I will give you one last clue and if no one works out the technique by tomorrow lunch time – Melbourne time – I will reveal the technique and give the prize to the most imaginative suggestion made.
The CLUE – The Blue/Green study was not knitted or crocheted but stranding is used carefully to achieve the color graduation. I used the Lace weight merino mini skeins collection – read the title of the page for another clue.
Here is an image of the completed piece – now called Rainbow Merino Study.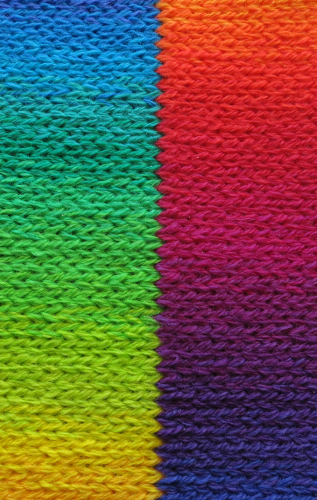 I have closed The Thread Room to carve out some time for my design practice.  This new website will showcase my knitting and crochet designs, provide links to my video tutorials and sell limited edition yarn kits. Sign up to the newsletter to get news on the latest designs, videos and craft kits.. Enjoy.